The Rainy Day Trust has launched an initiative designed to raise continuing much-needed funds – and help us all get a little fitter into the bargain! As CEO Bryan Clover explains:
"You don't have to be a mad March hare to take part in the RDT Mad March Million. Just put a small team together at work, or maybe family and friends, and walk or run, hop, skip or jump 1 million steps in March!"
Just record your steps from your phone each day and keep the charity up to date via bryan@rainydaytrust.org.uk and they'll do the rest.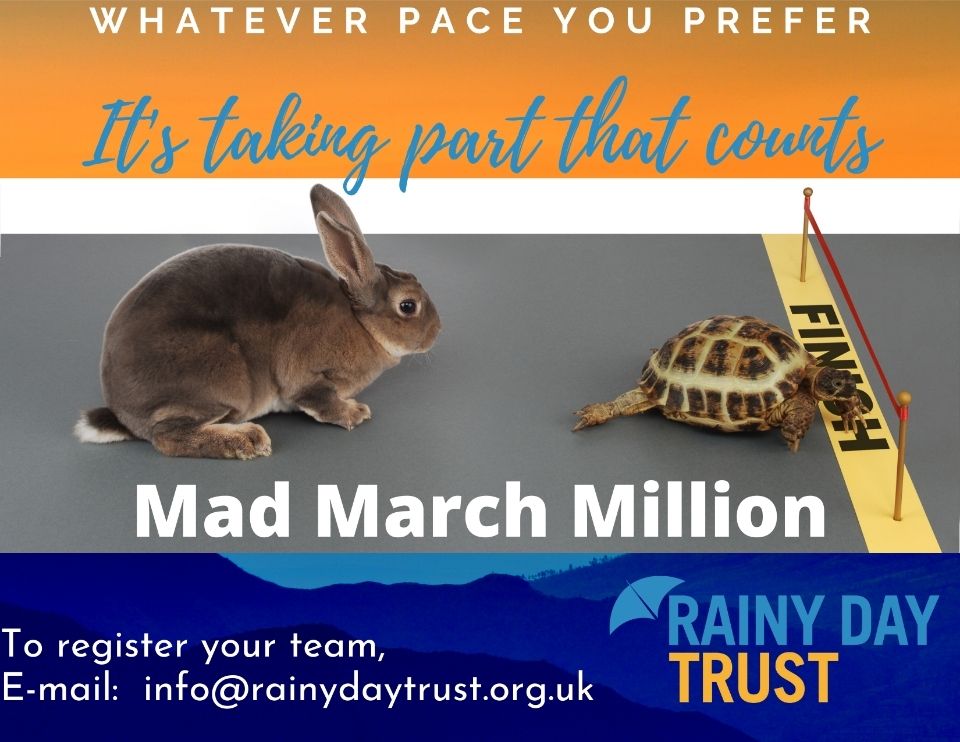 "We wanted to inject a bit of fun into the proceedings while still getting our message out there that we urgently need funds," said Bryan. "So we will publish a leader board and make sure that your team or business get their name out there for all to see. To keep fit anyway, the recommendation is that we all walk 10,000 steps a day, so you can do the maths!"
"You can get sponsored on Virgin Money Giving, Just Giving, or even Facebook. Help us to beat the virus and raise the money that we so desperately need to keep going. There will be a prize for the team that covers the most steps! It'll be something that will replace loads of those lost calories."
There is a £10 entry fee per person and Rainy Day Trust will even send you a water bottle to help you stay hydrated along the way. At the end RDT will even send you a medal!
"Remember, if you need us, we are here, if you don't, we need you."
For those wishing to sponsor or donate, please click here.
To enter your team, send the following details over to bryan@rainydaytrust.org.uk and RDT will organise registration:
• Team Name
• Business (please attach your logo)
• Contact e-mail
• Number of entrants (£10 entry fee per entrant)
• Fundraising target
Get fit and support your industry charity!
#showyoucare
To contact the Charity for support, call 0800 9154627 or contact us via the website.